Skip to main content
It looks like you're using Internet Explorer 11 or older. This website works best with modern browsers such as the latest versions of Chrome, Firefox, Safari, and Edge. If you continue with this browser, you may see unexpected results.
Print Books
Your student picture ID is your library card.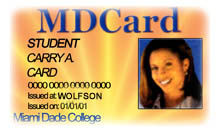 If you do not have your picture ID, use the myMDC app and scroll down to Virtual ID.

You are allowed to check out 15 books - 5 books per subject for 21 days.
eBooks
Login information.
Borrower ID: MDC Username.
PIN/Password: MDC Password.
eBook Collection (EBSCO)

(EBSCO) - EBSCO is now a key provider of eBooks and audiobooks to libraries and other institutions worldwide. The synergy of eBooks and audiobooks with EBSCOs multifaceted collection of electronic content provides libraries with even more options for fulfilling their growing electronic information needs. Making eBook and audiobook content accessible via the popular EBSCOhost interface will provide for a more powerful, fully-integrated user experience and prove valuable to librarians, students, and researchers. EBSCO offers a rapidly growing collection of eBooks available via convenient Subject Sets that have been hand-crafted by collection development experts.

Funded by: College and Statewide

Gale E-Books (Gale)

(Gale) - This product offers more than 85 reference sources including encyclopedias, series and more, allowing libraries to provide respected authoritative essays on varied topics from numerous subject areas. Users can search across a single eBook or an entire eBook collection.

Funded by: College and Statewide